About RegenCen Regenerative Medical Clinic & Dr. Gustav Lo
Have you heard?
50 is the new 30!
Unless...
You leak when you laugh
Thinning hair drags on your confidence
Texting and writing causes aching thumbs
Erections aren't effortless
It's too sandy "down there" to feel sexy
Your knees go stiff when you climb stairs
Everyone over 40 starts to notice aging changes. You aren't alone.
But you can function better and feel better with modern regenerative medicine.
Treatments at RegenCen fall into two main categories: PRF (platelet-rich fibrin) therapy and RF (radiofrequency) energy-based treatments.

• PRF helps repair joints, increase mobility, improve sexual health, and restore thinning hair, just to name a few. This clinically proven treatment modality comes from your own blood, and has been used for decades in the medical field to speed up post-surgical healing. Today, we use it to help restore aging tissues, including joints, ligaments and tendons, blood vessels and other vascular tissues, hair follicles, and aging skin.

• RF medical devices use combinations of radiofrequency energy and electronic muscle stimulation to strengthen and rebuild aging or damaged muscle, skin and other soft tissues. At RegenCen, we currently use these technologies to reverse pelvic muscles weakness (post-childbirth or age related), stimulate new collagen and renew vaginal tissue, and improve membrane function. Translation: better bladder control and sexual function and enjoyment!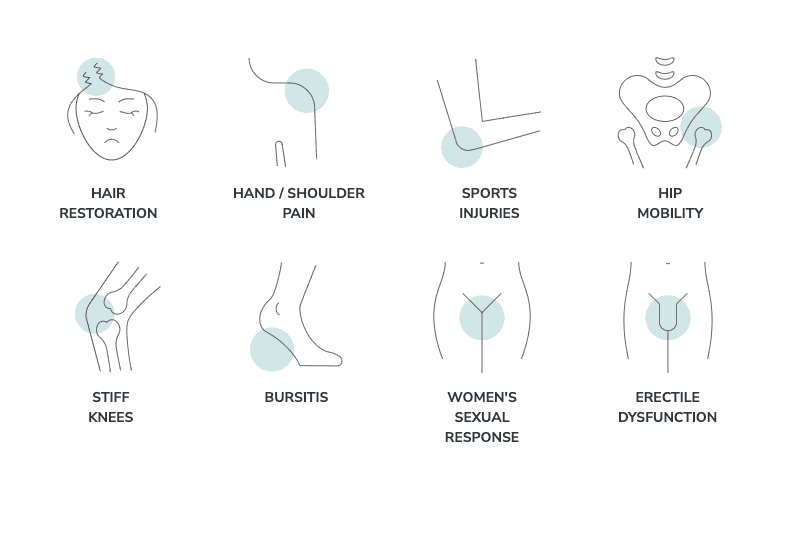 Ready to age with
more energy and confidence?