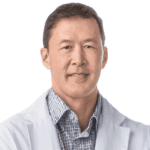 During his 30 year career as a Primary Care Physician, Dr. Lo first applied regenerative medical techniques such as PRP injections to orthopedic cases in the early 2000's; following those successes, he then brought similar techniques to our aesthetic practice. Our results mirrored the research findings in other centers – regenerative techniques can reverse some degenerative conditions and "youthify" our tissues and physiology. With that, he founded RegenCen (a separate division of CSLC) in two northern Michigan locations as a treatment center focused on helping patients age better. RegenCen merges the most proven regenerative therapies with bioidentical hormone programs for men and women, tackling some of the biggest impediments to living well over 50.
Dr. Lo earned his undergraduate degree from the University of Michigan and his MD from Michigan State University. He founded Northern Michigan MedCenter primary care and urgent care centers, operating them for 30 years with over 1 million total patient visits. Since 2009, Dr. Lo has offered treatments at CSLC in liposuction and laser surgery. He has performed over 4000 liposuction procedures in Petoskey and Traverse City and thousands of Laser Lift treatments for aging. The remainder of his professional time as a physician is at RegenCen. He continues seeing patients and offering general anti-aging therapies and regenerative treatments for specific conditions like  erectile dysfunction, arthritis/tendinitis and male testosterone replacement, was well as supervising our Physician Associates who specialize in women's care.
Under Dr. Lo's guidance and supervision, RegenCen also began to offer a results-proven prescription weight loss program with semagutide, or Ozempic, and the Skinny Shot as well as NAD+ therapy to help patients lose unwanted weight and keep it off.
As regenerative medicine continues to advance, Dr. Lo and his team are dedicated to the "youthification" of our clients, bringing exciting, scientifically proven treatments to patients in Traverse City and Petoskey who want to look, feel, and live better at every stage of life.