The Prevalence of Osteoarthritis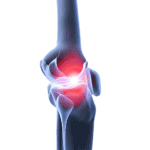 According to the American Arthritis Foundation, 1/3 of all adults under 65 have arthritis – that's 10s of millions of people who are actually pretty young! Over 65, it's reported to be more than 50%. But we know these numbers greatly underestimate the prevalence, because many of those statistics are based on a formal diagnosis from a doctor.
If you actually ask people if they have sore or stiff thumb joints, or have pain when opening a jar or shaking hands, or if their knees or feet are stiff or sore when they step out of bed… well then you get much higher numbers of people affected. The fact is, if you're fortunate to live a nice long life, you're almost certain to develop arthritis at least somewhere.
Luckily, there is help! Here at RegenCen, we treat arthritis with PRF (platelet-rich fibrin) injections. A natural and longer lasting substitute for steroid injections, The PRF Mobility Shot eases pain, can help delay a knee replacement, can help heal injured tendons or joints, and has zero side effects.
Consultations are always complimentary. Call or text 231.347.7395.